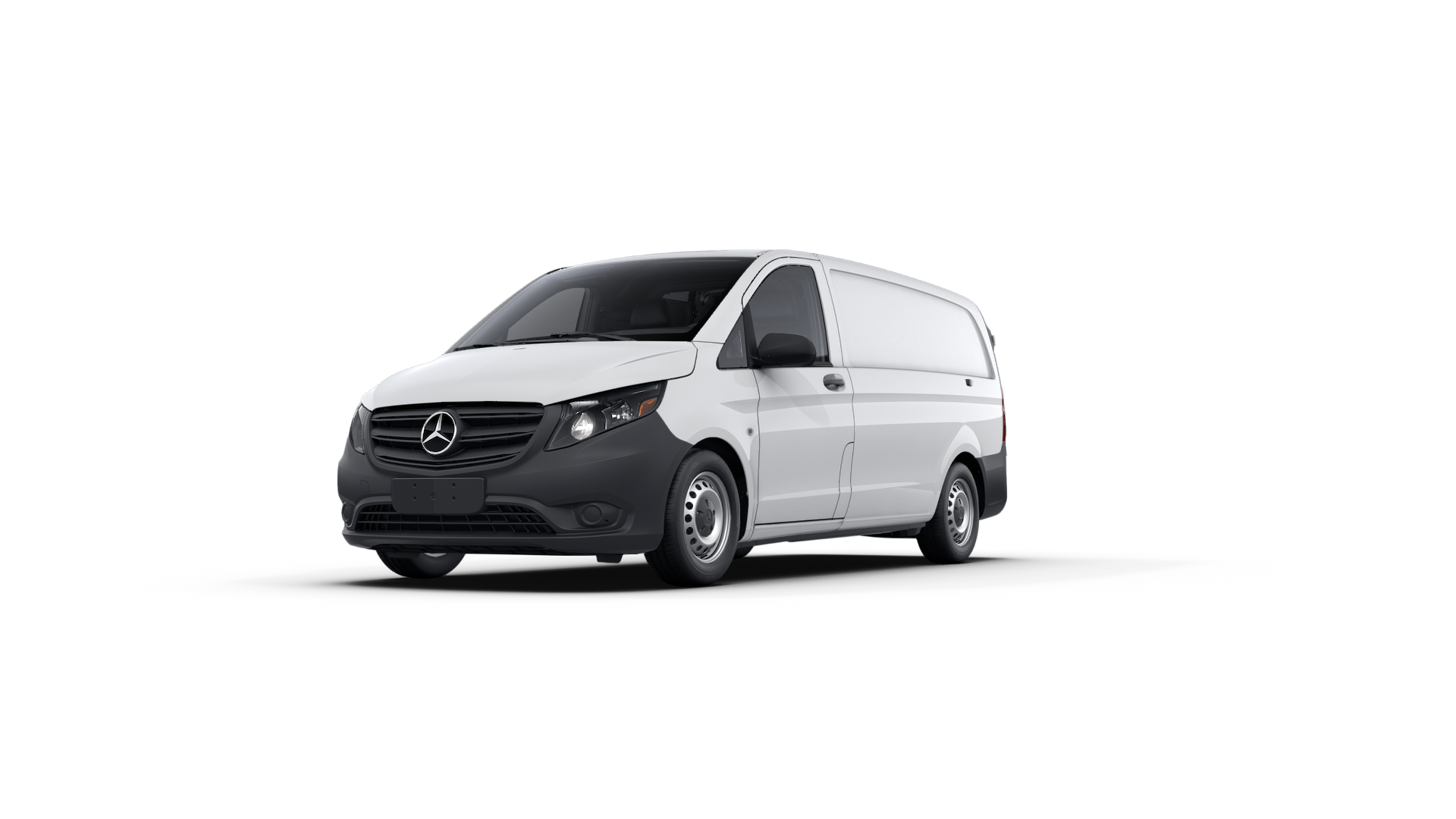 Cargo Van Lineup
2021

Cargo Van

MSRP

$

32,630

*
Gas

4

Cylinder
Payload

2,205

lbs
Dimensions

Length:

202.4 in

Width (w/o mirrors):

75.9 in

Width (incl. mirrors):

88.3 in

Height:

75.2 in

Height with roof rails:

77.1 in

Height with ladder rack (Max):

88.7 in

Wheelbase:

126 in

Overhang front/rear:

35.2 in/41.1 in

Cargo Length (without partition):

105.4 in

Cargo Length (with thru-loading partition):

111.5 in

Max. Cargo Width:

66.3 in

Cargo Floor Width (btw. wheelhouse):

50 in

Min. Cargo Height:

53.8 in

Max. Cargo Height:

55 in

Cargo Volume:

183 cu. ft.

Load Height:

22 in

Ground Clearance:

4.4 in

Side Door Opening Height:

49.3 in

Side Door Opening Width (at floor):

37.8 in

Rear Cargo Door Opening Height:

49.6 in

Rear Cargo Door Opening Width:

54.8 in

Turning Diameter (Wall to Wall):

38.7 ft

Turning Diameter (Curb to Curb):

36.4 ft

Headroom (driver/passenger):

39.6 in

Headroom (1st row):

39.6 in

Leg room (1st row):

35.78 in
Key Features
Engine:

4-Cylinder

Payload Capacity:

2,205 lbs

Seating Capacity:

2
Capacity
Payload Capacity:

2,205 lbs

Seating Capacity:

2

Cargo Volume:

183

Fuel Tank:

18.49 g

Fuel Economy (city/hwy/combined):

19/23/21 MPG

Max Roof Load:

331 lbs

GAWF / GAWR:

3,307 lbs

GVWR:

6,393 lbs

GCWR:

11,614 lbs

Base Curb Weight:

4,123 lbs
Powertrain
Engine:

4-Cylinder

Horsepower:

208 hp @ 5,500 rpm

Torque:

258 lb-ft @ 1,250-4,000 rpm

Rear Axle Ratio:

3.467

1st Gear:

4.377

2nd Gear:

2.859

3rd Gear:

1.921

4th Gear:

1.368

5th Gear:

1.000

6th Gear:

0.820

7th Gear:

0.728

Reverse:

3.416
2021

Cargo Van

MSRP

$

33,155

*
Gas

4

Cylinder
Payload

2,150

lbs
Dimensions

Length:

211.4 in

Width (w/o mirrors):

75.9 in

Width (incl. mirrors):

88.3 in

Height:

75.2 in

Height with roof rails:

77.1 in

Height with ladder rack (Max):

88.7 in

Wheelbase:

135 in

Overhang front/rear:

35.2 in/41.1 in

Cargo Length (without partition):

114.5 in

Cargo Length (with thru-loading partition):

120.5 in

Max. Cargo Width:

66.3 in

Cargo Floor Width (btw. wheelhouse):

50 in

Min. Cargo Height:

53.8 in

Max. Cargo Height:

55 in

Cargo Volume:

199 cu. ft.

Load Height:

22 in

Ground Clearance:

4.4 in

Side Door Opening Height:

49.3 in

Side Door Opening Width (at floor):

37.8 in

Rear Cargo Door Opening Height:

49.6 in

Rear Cargo Door Opening Width:

54.8 in

Turning Diameter (Wall to Wall):

41 ft

Turning Diameter (Curb to Curb):

38.7 ft

Headroom (driver/passenger):

39.6 in

Headroom (1st row):

39.6 in

Leg room (1st row):

35.78 in
Key Features
Engine:

4 Cylinder

Payload Capacity:

2,150 lbs

Seating Capacity:

2
Capacity
Payload Capacity:

2,150 lbs

Seating Capacity:

2

Cargo Volume:

199

Fuel Tank:

18.49 g

Fuel Economy (city/hwy/combined):

19/23/21 MPG

Max Roof Load:

331 lbs

GAWF / GAWR:

3,307 lbs

GVWR:

6,393 lbs

GCWR:

11,614 lbs

Base Curb Weight:

4,178 lbs
Measurements
Cargo Bed Length:

114.5
Powertrain
Engine:

4 Cylinder

Horsepower:

208 hp @ 5,500 rpm

Torque:

258 lb-ft @ 1,250-4,000 rpm

Rear Axle Ratio:

3.467

1st Gear:

4.377

2nd Gear:

2.859

3rd Gear:

1.921

4th Gear:

1.368

5th Gear:

1.000

6th Gear:

0.820

7th Gear:

0.728

Reverse:

3.416

Upfit Your Van with Mercedes-Benz ExpertSOLUTIONS
No van upfits like a Mercedes-Benz. Whether for business or pleasure, Mercedes-Benz vans offer superior capabilities designed to fit your needs, no matter what they may be. [2]
Learn More

Connected Technology for Your Mercedes-Benz Van
With Mercedes PRO connect technology, you'll be taking to the road with ease – so you can push your business even further. [3]
See Mercedes PRO

Value for the Long Haul
Compare the Total Cost of Operation between Mercedes-Benz Vans and other competitors to see for yourself.
See the Numbers