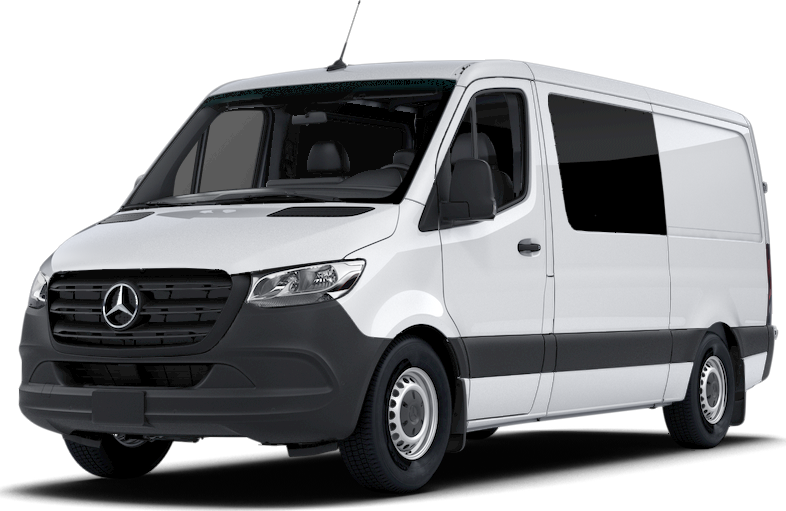 Crew Van Lineup
2024

Crew Van 2500

MSRP

$

52,120

*
Diesel Standard Output

4

Cylinder
Payload

3,825

lbs
Dimensions

Overall Height:

96 in

Overall Length:

234 in

Overall Width with mirrors:

92 in

Wheelbase:

144 in
Key Features
Engine:

4-Cylinder Diesel Standard Output

Payload Capacity:

3,825 lbs

Cargo Volume:

240 cu ft

Standing Height:

65 in

Seating Capacity:

5
Capacity
Seating Capacity:

5

Cargo Volume:

240 cu ft

Max Available GVWR:

9,050 lbs

Max Available GCWR:

13,930 lbs

Fuel Tank Capacity:

24.5 gal

Payload Capacity:

3,825 lbs

Base Curb Weight:

5,225 lbs

GAWR.F (Option):

4409 Ib

UVW:

7401 Ibs

Max Tongue Weight:

500 Ibs

Base Curb Weight (Front):

2,294 lbs

GAWR.R:

5359 Ibs

GAWR.F (Standard):

4101 Ibs

Base Curb Weight (Rear):

3,041 lbs
Measurements
Standing Height:

65 in

Cargo Bed Length:

104 in

Turning Diameter (curb to curb):

45 ft

Ground To First Step-Side:

21 in

Load height, unloaded (ground to cargo floor):

28 in

Door Opening-Side(Height):

60 in

Door Opening-Rear(Height):

61 in

Dual Door Width-Side:

51 in

Door Width-Rear:

61 in

Max. Cargo Bed Length:

104 in

Cargo Width at Wheelhouse:

53 in

Max Width at Floor:

70 in

Loading Area:

TBD

Turning Circle (Wall to Wall):

44 ft

Available Rear Axle Ratios****:

TBD

Overhang (Front), in:

40 in

Overhang (Rear), in:

49 in

Tire Track (Front), in:

67.2 in

Center of Gravity X, in:

TBD

Rim:

ET55

Tire Track (Rear), in:

68.2 in

Center of Gravity Z, in:

TBD

Max. Height Center of Gravity Z , in:

TBD

Center of Gravity Y, in:

TBD
Powertrain
Engine:

4-Cylinder Diesel Standard Output

Fuel Type:

Diesel

Displacement:

1950 cc

Horsepower:

170 hp

Transmission:

Automatic Transmission, 9G-TRONIC

Drive Shaft:

RWD

Emission Certification:

SULEV

Injection:

Common-rail direct injection (CDI)

Rated Torque:

295 lb-ft

Crew Van 2500

MSRP

$

54,920

*
Diesel High Output

4

Cylinder
Payload

3,825

lbs
Dimensions

Overall Height:

96 in

Overall Length:

234 in

Overall Width with mirrors:

92 in

Wheelbase:

144 in
Key Features
Engine:

4-Cylinder Diesel High Output

Payload Capacity:

3,825 lbs

Cargo Volume:

240 cu ft

Standing Height:

65 in

Seating Capacity:

5
Capacity
Payload Capacity:

3,825 lbs

Seating Capacity:

5

Cargo Volume:

240 cu ft

Max Available GVWR:

9,050 lbs

Base Curb Weight:

5,225 lbs

Max Available GCWR:

13,930 lbs

Fuel Tank Capacity:

24.5 gal

Shipping Weight:

5,556 lbs

GAWR.F (Standard):

4,101 lbs

GAWR.F (Option):

4,409 lbs

GAWR.R:

5,359 lbs

UVW:

7,401 lbs

Base Curb Weight (Rear):

2,348 lbs

Base Curb Weight (Front):

3,301 lbs

Max Tongue Weight:

500 lbs
Measurements
Standing Height:

65 in

Cargo Bed Length:

104 in

Turning Diameter (curb to curb):

45 ft

Ground To First Step-Side:

21 in

Load height, unloaded (ground to cargo floor):

28 in

Door Opening-Side(Height):

60 in

Door Opening-Rear(Height):

61 in

Dual Door Width-Side:

51 in

Door Width-Rear:

61 in

Max. Cargo Bed Length:

104 in

Cargo Width at Wheelhouse:

53 in

Max Width at Floor:

70 in

Loading Area:

TBD

Turning Circle (Wall to Wall):

44 ft

Available Rear Axle Ratios****:

57%/43%

Overhang (Rear), in:

49 in

Overhang (Front), in:

40 in

Tire Track (Front), in:

67.2 in

Tire Track (Rear), in:

68.2 in

Rim:

ET55

Center of Gravity X, in:

TBD

Center of Gravity Y, in:

TBD

Max. Height Center of Gravity Z , in:

TBD

Center of Gravity Z, in:

TBD

Interior Height:

77 in

Tires & Load Ratings:

3087
Powertrain
Engine:

4-Cylinder Diesel High Output

Fuel Type:

Diesel

Displacement:

1950 cc

Horsepower:

211 hp

Rated Torque:

332 lb-ft

Transmission:

Automatic Transmission, 9G-TRONIC

Drive Shaft:

RWD

Emission Certification:

SULEV

Injection:

Common-rail direct injection (CDI)

Crew Van 2500

MSRP

$

61,620

*
Diesel High Output AWD

4

Cylinder
Payload

3,472

lbs
Dimensions

Overall Height:

100 in

Overall Length:

234 in

Overall Width with mirrors:

92 in

Wheelbase:

144 in
Key Features
Engine:

4-Cylinder Diesel High Output AWD

Payload Capacity:

3,472 lbs

Cargo Volume:

223 cu ft

Standing Height:

65 in

Seating Capacity:

5
Capacity
Payload Capacity:

3,472 lbs

Seating Capacity:

5

Cargo Volume:

223 cu ft

Max Available GVWR:

9,050 lbs

Base Curb Weight:

5,578 lbs

Max Available GCWR:

13,930 lbs

Fuel Tank Capacity:

24.5 gal
Measurements
Standing Height:

65 in

Cargo Bed Length:

104 in

Turning Diameter (curb to curb):

43 ft

Ground To First Step-Side:

25 in

Load height, unloaded (ground to cargo floor):

31 in

Door Opening-Side(Height):

60 in

Door Opening-Rear(Height):

61 in

Dual Door Width-Side:

51 in

Door Width-Rear:

61 in

Max. Cargo Bed Length:

104 in

Cargo Width at Wheelhouse:

53 in

Max Width at Floor:

70 in
Powertrain
Engine:

4-Cylinder Diesel High Output AWD

Fuel Type:

Diesel

Displacement:

1950 cc

Horsepower:

211 hp

Rated Torque:

332 lb-ft

Transmission:

Automatic Transmission, 9G-TRONIC

Drive Shaft:

RWD

Emission Certification:

SULEV

Injection:

Common-rail direct injection (CDI)
2024

Crew Van 2500

MSRP

$

55,620

*
Diesel Standard Output

4

Cylinder
Payload

3,737

lbs
Dimensions

Overall Height:

108 in

Overall Length:

234 in

Overall Width with mirrors:

92 in

Wheelbase:

144 in
Key Features
Engine:

4-Cylinder Diesel Standard Output

Payload Capacity:

3,737 lbs

Cargo Volume:

279 cu ft

Standing Height:

77 in

Seating Capacity:

5
Capacity
Seating Capacity:

5

Cargo Volume:

279 cu ft

Max Available GVWR:

9,050 lbs

Max Available GCWR:

13,930 lbs

Fuel Tank Capacity:

24.5 gal

Payload Capacity:

3,737 lbs

Base Curb Weight:

5,313 lbs

GAWR.F (Option):

4409 Ib

UVW:

7401 Ibs

Max Tongue Weight:

500 Ibs

Base Curb Weight (Front):

2,294 lbs

GAWR.R:

5359 Ibs

Base Curb Weight (Rear):

3,041 lbs

GAWR.F (Standard):

4101 Ibs
Measurements
Standing Height:

77 in

Cargo Bed Length:

104 in

Turning Diameter (curb to curb):

45 ft

Ground To First Step-Side:

21 in

Load height, unloaded (ground to cargo floor):

28 in

Door Opening-Side(Height):

72 in

Door Opening-Rear(Height):

73 in

Dual Door Width-Side:

51 in

Door Width-Rear:

61 in

Max. Cargo Bed Length:

104 in

Cargo Width at Wheelhouse:

53 in

Max Width at Floor:

70 in

Loading Area:

TBD

Turning Circle (Wall to Wall):

44 ft

Available Rear Axle Ratios****:

TBD

Overhang (Front), in:

40 in

Overhang (Rear), in:

49 in

Tire Track (Front), in:

67.2 in

Tire Track (Rear), in:

68.2 in

Rim:

ET55

Center of Gravity X, in:

TBD

Center of Gravity Y, in:

TBD

Max. Height Center of Gravity Z , in:

TBD

Center of Gravity Z, in:

TBD
Powertrain
Engine:

4-Cylinder Diesel Standard Output

Fuel Type:

Diesel

Displacement:

1950 cc

Horsepower:

170 hp

Transmission:

Automatic Transmission, 9G-TRONIC

Drive Shaft:

RWD

Emission Certification:

SULEV

Injection:

Common-rail direct injection (CDI)

Rated Torque:

295 lb-ft

Crew Van 2500

MSRP

$

58,420

*
Diesel High Output

4

Cylinder
Payload

3,737

lbs
Dimensions

Overall Height:

108 in

Overall Length:

234 in

Overall Width with mirrors:

92 in

Wheelbase:

144 in
Key Features
Engine:

4-Cylinder Diesel High Output

Payload Capacity:

3,737 lbs

Cargo Volume:

279 cu ft

Standing Height:

77 in

Seating Capacity:

5
Capacity
Payload Capacity:

3,737 lbs

Seating Capacity:

5

Cargo Volume:

279 cu ft

Max Available GVWR:

9,050 lbs

Base Curb Weight:

5,313 lbs

Max Available GCWR:

13,930 lbs

Fuel Tank Capacity:

24.5 gal

Shipping Weight:

5,556 lbs

GAWR.F (Standard):

4,101 lbs

GAWR.F (Option):

4,409 lbs

GAWR.R:

5,359 lbs

Base Curb Weight (Front):

3,301 lbs

Base Curb Weight (Rear):

2,348 lbs

UVW:

7,401 lbs

Max Tongue Weight:

500 lbs
Measurements
Standing Height:

77 in

Cargo Bed Length:

104 in

Turning Diameter (curb to curb):

45 ft

Ground To First Step-Side:

21 in

Load height, unloaded (ground to cargo floor):

28 in

Door Opening-Side(Height):

72 in

Door Opening-Rear(Height):

73 in

Dual Door Width-Side:

51 in

Door Width-Rear:

61 in

Max. Cargo Bed Length:

104 in

Cargo Width at Wheelhouse:

53 in

Max Width at Floor:

70 in

Loading Area:

TBD

Turning Circle (Wall to Wall):

44 ft

Available Rear Axle Ratios****:

57%/43%

Overhang (Rear), in:

49 in

Overhang (Front), in:

40 in

Tire Track (Front), in:

67.2 in

Tire Track (Rear), in:

68.2 in

Rim:

ET55

Center of Gravity X, in:

TBD

Center of Gravity Y, in:

TBD

Center of Gravity Z, in:

TBD

Max. Height Center of Gravity Z , in:

TBD

Tires & Load Ratings:

3087

Interior Height:

77 in
Powertrain
Engine:

4-Cylinder Diesel High Output

Fuel Type:

Diesel

Displacement:

1950 cc

Horsepower:

211 hp

Rated Torque:

332 lb-ft

Transmission:

Automatic Transmission, 9G-TRONIC

Drive Shaft:

RWD

Emission Certification:

SULEV

Injection:

Common-rail direct injection (CDI)

Crew Van 2500

MSRP

$

65,120

*
Diesel High Output AWD

4

Cylinder
Payload

3,384

lbs
Dimensions

Overall Height:

111 in

Overall Length:

234 in

Overall Width with mirrors:

92 in

Wheelbase:

144 in
Key Features
Engine:

4-Cylinder Diesel High output AWD

Payload Capacity:

3,384 lbs

Cargo Volume:

279 cu ft

Standing Height:

77 in

Seating Capacity:

5
Capacity
Payload Capacity:

3,384 lbs

Seating Capacity:

5

Cargo Volume:

279 cu ft

Max Available GVWR:

9,050 lbs

Base Curb Weight:

5,666 lbs

Max Available GCWR:

13,930 lbs

Fuel Tank Capacity:

24.5 gal

Shipping Weight:

5,919 | 5,908 | 5,908 lbs

GAWR.F (Standard):

4,409 lbs

GAWR.F (Option):

GAWR.R:

5,359 lbs

Base Curb Weight (Front):

2,412 lbs

Base Curb Weight (Rear):

3,331 lbs

Max Tongue Weight:

500 lbs

UVW:

7,401 lbs
Measurements
Standing Height:

77 in

Cargo Bed Length:

104 in

Turning Diameter (curb to curb):

45 ft

Ground To First Step-Side:

25 in

Load height, unloaded (ground to cargo floor):

31 in

Door Opening-Side(Height):

72 in

Door Opening-Rear(Height):

73 in

Dual Door Width-Side:

51 in

Door Width-Rear:

61 in

Max. Cargo Bed Length:

104 in

Cargo Width at Wheelhouse:

53 in

Max Width at Floor:

70 in

Loading Area:

TBD

Turning Circle (Wall to Wall):

46 ft

Available Rear Axle Ratios****:

58%/42%

Overhang (Front), in:

40 in

Tire Track (Front), in:

67.8 in

Tire Track (Rear), in:

68.2 in

Overhang (Rear), in:

49 in

Center of Gravity X, in:

TBD

Rim:

ET57

Center of Gravity Y, in:

TBD
Powertrain
Engine:

4-Cylinder Diesel High output AWD

Fuel Type:

Diesel

Displacement:

1950 cc

Horsepower:

211 hp

Rated Torque:

332 lb-ft

Transmission:

Automatic Transmission, 9G-TRONIC

Drive Shaft:

RWD

Emission Certification:

SULEV

Injection:

Common-rail direct injection (CDI)
2024

Crew Van 2500

MSRP

$

59,420

*
Diesel Standard Output

4

Cylinder
Payload

3,384

lbs
Dimensions

Overall Height:

107 in

Overall Length:

274 in

Overall Width with mirrors:

92 in

Wheelbase:

170 in
Key Features
Engine:

4-Cylinder Diesel Standard Output

Payload Capacity:

3,384 lbs

Cargo Volume:

396 cu ft

Standing Height:

77 in

Seating Capacity:

2-3
Capacity
Payload Capacity:

3,384 lbs

Seating Capacity:

2-3

Cargo Volume:

396 cu ft

Max Available GVWR:

9,050 lbs

Base Curb Weight:

5,666 lbs

Max Available GCWR:

13,930 lbs

Fuel Tank Capacity:

22 gal

Base Curb Weight (Rear), lbs.:

3,185 lbs

Max. Tongue Weight, lbs.:

500 lbs

GAWR.F (Standard), lbs.:

4,101 lb

GAWR.F (Option), lbs.:

4,409 lb

UVW, lbs.:

7,401 lb

Base Curb Weight (Front), lbs.:

2,503 lbs

GAWR.R, lbs.:

5,359 lb
Measurements
Standing Height:

77 in

Cargo Bed Length:

144 in

Turning Diameter (curb to curb):

52 ft

Ground To First Step-Side:

20 in

Load height, unloaded (ground to cargo floor):

27 in

Door Opening-Side(Height):

72 in

Door Opening-Rear(Height):

73 in

Dual Door Width-Side:

51 in

Door Width-Rear:

61 in

Max. Cargo Bed Length:

144 in

Cargo Width at Wheelhouse:

53 in

Max Width at Floor:

70 in

Loading Area:

TBD

Turning Circle (Wall to Wall):

50 ft

Available Rear Axle Ratios****:

56%/44%

Tire Track (Front), in:

67.2 in

Overhang (Rear), in:

64 in

Overhang (Front), in:

40 in

Tire Track (Rear), in:

68.2 in

Rim:

ET58

Center of Gravity X, in:

TBD

Center of Gravity Y, in:

TBD

Max. Height Center of Gravity Z , in:

TBD

Center of Gravity Z, in:

TBD
Powertrain
Engine:

4-Cylinder Diesel Standard Output

Fuel Type:

Diesel

Displacement:

1,950 cc

Horsepower:

170 hp

Rated Torque:

295 lb-ft

Transmission:

Automatic Transmission, 9G-TRONIC

Drive Shaft:

RWD

Emission Certification:

SULEV

Injection:

Common-rail direct injection (CDI)

Crew Van 2500

MSRP

$

62,220

*
Diesel High Output

4

Cylinder
Payload

3,384

lbs
Dimensions

Overall Height:

107 in

Overall Length:

274 in

Overall Width with mirrors:

92 in

Wheelbase:

170 in
Key Features
Engine:

4-Cylinder Diesel High Output

Payload Capacity:

3,384 lbs

Cargo Volume:

396 cu ft

Standing Height:

77 in

Seating Capacity:

5
Capacity
Payload Capacity:

3,384 lbs

Seating Capacity:

5

Cargo Volume:

396 cu ft

Max Available GVWR:

9,050 lbs

Base Curb Weight:

5,666 lbs

Max Available GCWR:

13,930 lbs

Fuel Tank Capacity:

24.5 gal

Shipping Weight:

5,931 lbs

GAWR.F (Standard):

4,101 lbs

GAWR.F (Option):

4,409 lbs

GAWR.R:

5,359 lbs

Base Curb Weight (Front):

2,527 lbs

Base Curb Weight (Rear):

3,216 lbs

UVW:

7,401 lbs

Max Tongue Weight:

500 lbs
Measurements
Standing Height:

77 in

Cargo Bed Length:

144 in

Turning Diameter (curb to curb):

52 ft

Ground To First Step-Side:

20 in

Load height, unloaded (ground to cargo floor):

27 in

Door Opening-Side(Height):

72 in

Door Opening-Rear(Height):

73 in

Dual Door Width-Side:

51 in

Door Width-Rear:

61 in

Max. Cargo Bed Length:

144 in

Cargo Width at Wheelhouse:

53 in

Max Width at Floor:

70 in

Loading Area:

TBD

Turning Circle (Wall to Wall):

50 ft

Available Rear Axle Ratios****:

TBD

Overhang (Front), in:

40 in

Overhang (Rear), in:

49 in

Tire Track (Front), in:

66 in

Tire Track (Rear), in:

60.7 in

Rim:

ET58

Center of Gravity X, in:

TBD

Center of Gravity Y, in:

Max. Height Center of Gravity Z , in:

TBD

Center of Gravity Z, in:

TBD

Interior Height:

77 in

Tires & Load Ratings:

3,090
Powertrain
Engine:

4-Cylinder Diesel High Output

Fuel Type:

Diesel

Displacement:

1,950 cc

Horsepower:

211 hp

Rated Torque:

332 lb-ft

Transmission:

Automatic Transmission, 9G-TRONIC

Drive Shaft:

RWD

Emission Certification:

SULEV

Injection:

Common-rail direct injection (CDI)

Crew Van 2500

MSRP

$

68,920

*
Diesel High Output AWD

4

Cylinder
Payload

3,031

lbs
Dimensions

Overall Height:

111 in

Overall Length:

274 in

Overall Width with mirrors:

92 in

Wheelbase:

170 in
Key Features
Engine:

4-Cylinder Diesel High output AWD

Payload Capacity:

3,031 lbs

Cargo Volume:

396 cu ft

Standing Height:

111 in

Seating Capacity:

5
Capacity
Payload Capacity:

3,031 lbs

Seating Capacity:

5

Cargo Volume:

396 cu ft

Max Available GVWR:

9,050 lbs

Base Curb Weight:

6,019 lbs

Max Available GCWR:

13,930 lbs

Fuel Tank Capacity:

24.5 gal

Shipping Weight:

5,556 lbs

GAWR.F (Standard):

4,409lbs

GAWR.F (Option):

GAWR.R:

5,359 lbs

UVW:

7,401 lbs

Base Curb Weight (Rear):

3,475 lbs

Base Curb Weight (Front):

2,621 lbs

Max Tongue Weight:

500 lbs
Measurements
Standing Height:

111 in

Cargo Bed Length:

144 in

Turning Diameter (curb to curb):

52 ft

Ground To First Step-Side:

24 in

Load height, unloaded (ground to cargo floor):

31 in

Door Opening-Side(Height):

72 in

Door Opening-Rear(Height):

73 in

Dual Door Width-Side:

51 in

Door Width-Rear:

61 in

Max. Cargo Bed Length:

144 in

Cargo Width at Wheelhouse:

53 in

Max Width at Floor:

70 in

Loading Area:

TBD

Turning Circle (Wall to Wall):

50 ft

Available Rear Axle Ratios****:

TBD

Overhang (Front), in:

40 in

Overhang (Rear), in:

49 in

Tire Track (Front), in:

66 in

Tire Track (Rear), in:

60.7 in

Rim:

ET59

Center of Gravity X, in:

TBD

Center of Gravity Y, in:

Max. Height Center of Gravity Z , in:

TBD

Center of Gravity Z, in:

TBD

Tires & Load Ratings:

3,091

Interior Height:

77 in
Powertrain
Engine:

4-Cylinder Diesel High output AWD

Fuel Type:

Diesel

Displacement:

1,950 cc

Horsepower:

211 hp

Rated Torque:

332 lb-ft

Transmission:

Automatic Transmission, 9G-TRONIC

Drive Shaft:

RWD

Emission Certification:

SULEV

Injection:

Common-rail direct injection (CDI)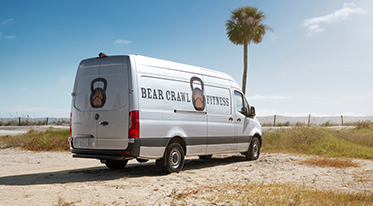 Get 4.90% APR Financing up to 36 months. [3]
For a limited time, take advantage of 4.90% APR financing on a new 2022 Mercedes-Benz Sprinter Van. Offer valid through January 2, 2024.
Offer Details
Only valid on 2022 and 2023 Mercedes-Benz Sprinter Cargo Van, Crew Van and Cab Chassis (excluding Sprinter 4x4/AWD). Qualified commercial customers only. 4.90% APR financing for 36 months at $29.93 per month, per $1,000 financed. Excludes leases and balloon contracts and National Fleet customers. Available only at participating authorized Mercedes-Benz Vans dealers through Mercedes-Benz Financial Services (MBFS). Must take delivery of vehicle by January 2, 2024. Specific vehicles are subject to availability and may have to be ordered. Subject to credit approval by MBFS. Actual rates, terms, down payment, and program eligibility will be determined by MBFS Credit Team based upon creditworthiness of customer. Program rates or terms may be changed or the program may be terminated at any time at the sole discretion of MBFS. To qualify, the total amount financed cannot exceed 110% of MSRP. See your authorized Mercedes-Benz Vans dealer for complete details on this and other finance offers. Offer valid through January 2, 2024.

Upfit Your Van with Mercedes-Benz ExpertSOLUTIONS
No van upfits like a Mercedes-Benz Sprinter van. Whether for business or pleasure, Mercedes-Benz vans offer superior capabilities designed to fit your needs, no matter what they may be.
Learn More

Connected Technology for Your Sprinter
With technology like Active Brake Assist, rear-view camera display, multimedia touch-screen control and more, you'll be taking to the road with ease. And when you connect drivers, vehicles, and managers with Mercedes me connect, you can push your business even further.[4][5]
Learn More

Value for the Long Haul
Compare the Total Cost of Operation between Mercedes-Benz Vans and other competitors to see for yourself.
See the Numbers