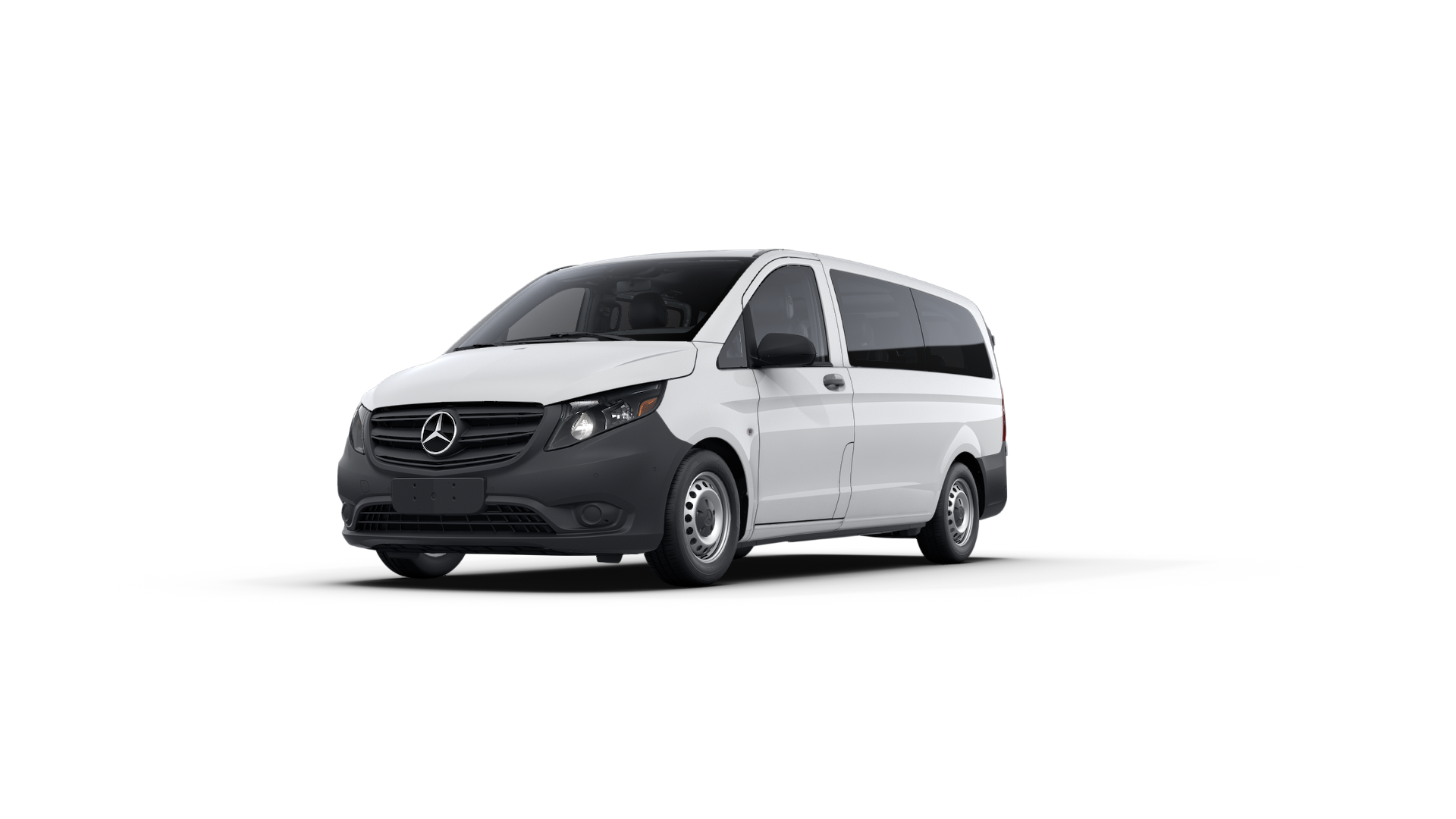 Passenger Van Lineup
2023

Passenger Van

MSRP

$

43,600

*
Gas

4

Cylinder
Payload

1,720

lbs
Dimensions

Length:

202.4 in

Width (w/o mirrors):

75.9 in

Width (incl. mirrors):

88 in

Height:

74.4 in

Height with roof rails:

76.3 in

Wheelbase:

126 in

Overhang front/rear:

35.2 in/41.1 in

Cargo Length (without partition):

27.5 in

Max. Cargo Width:

61.1 in

Cargo Floor Width (btw. wheelhouse):

47.4 in

Min. Cargo Height:

52.2 in

Max. Cargo Height:

53.8 in

Ground Clearance:

3.8 in

Side door opening height:

48 in

Side Door Opening Width (at floor):

35.5 in

Rear cargo door opening height:

47 in

Rear cargo door opening width:

52.6 in

Turning Radius Wall to Wall:

38.7 ft

Turning Radius Curb to Curb:

36.4 ft

Head Room (1st Row):

39.6 in

Leg room (1st row):

35.8 in

Head Room (2nd) Front Of Seat/Back Of Seat:

40 in / 41.4 in

Leg room (2nd row):

35.8 in

Hip room (2nd row):

65.5 in

Shoulder room (2nd row):

64.92 in

Head Room (3rd) Front Of Seat/Back Of Seat:

39.2 in / 40.5 in

Leg room (3rd row):

35.8 in

Hip room (3rd row):

56 in

Shoulder room (3rd row):

61.2 in
Key Features
Engine:

4-Cylinder Gas

Payload Capacity:

1,720 lbs

Seating Capacity:

8
Powertrain
Engine:

4-Cylinder Gas

Horsepower:

208 hp @ 5,500 rpm

Torque:

258 lb-ft @ 1,250-4,000 rpm

Rear Axle Ratio:

3.467

1st Gear:

5.354

2nd Gear:

3.243

3rd Gear:

2.252

4th Gear:

1.636

5th Gear:

1.211

6th Gear:

1.000

7th Gear:

0.865

Reverse:

-4.798

8th Gear:

0.717

9th Gear:

0.601

Upfit Your Van with Mercedes-Benz ExpertSOLUTIONS
No van upfits like a Mercedes-Benz. Whether for business or pleasure, Mercedes-Benz vans offer superior capabilities designed to fit your needs, no matter what they may be. 
Learn More

Connected Technology for Your Mercedes-Benz Van
With Mercedes me connect technology, you'll be taking to the road with ease – so you can push your business even further. [5]
Learn More

Value for the Long Haul
Compare the Total Cost of Operation between Mercedes-Benz Vans and other competitors to see for yourself.
See the Numbers