Obsidian Black Metallic

+$

990

Brilliant Silver Metallic

+$

990
You focus on work. We'll focus on safety.
At Mercedes-Benz, we're constantly developing new innovations to make sure your job gets done as safely as possible.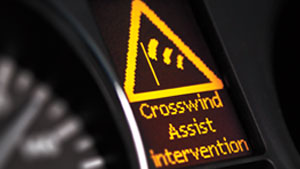 Crosswind Assist3
Standard
Crosswind Assist3 helps you stabilize your van and boosts safety in strong, gusting crosswinds. This standard feature helps you ensure that your vehicle remains in its lane at highway speeds.
Load-Adaptive Electronic Stability Program (Esp®)2
Standard
Standard on Metris vans, this dynamic handling system actively intervenes to help keep the van firmly under control and safe by automatically braking individual wheels and reducing engine power to help stabilize the vehicle if wheelspin, understeer, or oversteer is detected.
Attention Assist®20
Standard
Standard on Metris vans, Attention Assist®20 helps prevent drowsy driving by monitoring your driving patterns and providing an early warning in case fatigue is detected.
With the standard feature Rescue AssistSM, first responders to an accident can scan a QR code in a Mercedes-Benz Van to quickly see where batteries, airbags and other structural elements are located in order to safely perform the rescue.
Blind Spot Assist10
Optional
Using radar sensors to monitor approaching vehicles on multilane highways, this system can detect vehicles in your blind spot and alert you visually and audibly.
Rearview Camera23
Standard
The visual parking aid is activated when the Reverse gear is selected, giving you a view of what's going on behind you as well as providing overlays with which to guide you.
x of x
Gross Vehicle Weight Rating
6,614
lbs.
Maximum Seating Capacity
Up to 7
people
Maximum Payload Capacity
1,896
lbs.
Maximum Towing Capacity
5,000
lbs.22
Side Door Opening Width
35.5
in.
Dimensions
---
Metris Worker Passenger Van
Standard Roof 126 Wheelbase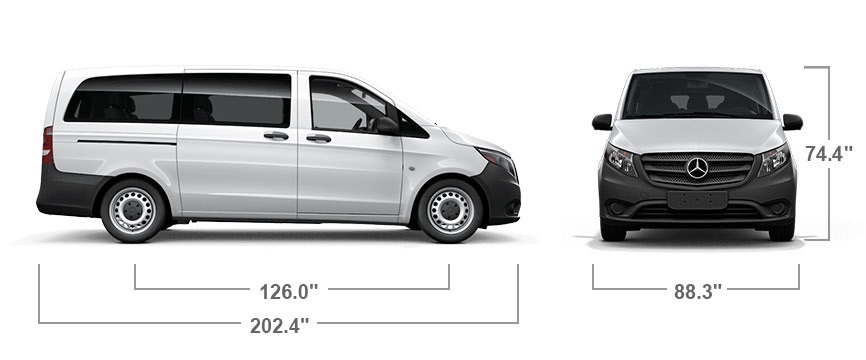 Length: 202.4 in
Width (w/o mirrors): 75.9 in
Width (incl. mirrors): 88.3 in
Height: 74.4 in
Height with roof rails: 76.3 in
Wheelbase: 126 in
Overhang front/rear: 35.3 in/41.1 in
Cargo Length (without partition): 27.5 in
Max. Cargo Width: 61.1 in
Cargo Floor Width (btw. wheelhouse): 47.4 in
Min. Cargo Height: 52.2 in
Max. Cargo Height: 52.4 in
Cargo Volume (Behind 3rd Row): 38 cu. ft.
Ground Clearance: 3.82 in
Side Door Opening Width (at floor): 35.5 in
Turning Diameter Wall to Wall: 38.7 ft
Turning Diameter Curb to Curb: 36.4 ft
Headroom (driver/passenger): 39.6 in
Headroom (2nd row): 41.4 in
Headroom (3rd row): 40.5 in
Capacity
---
Fuel Tank: 18.49 g
Max Roof Load: 331 lbs
Payload: 1,896 lbs
GAWF / GAWR: 3,307 lbs
Towing: 5,000 lbs2
GVWR: 6,614 lbs161
GCWR: 11,724 lbs
Powertrain
---
Horsepower: 208 hp
Torque: 258 lb-ft
Rear Axle Ratio: 3.467
Fuel Economy (city/hwy/combined): 19/23/21 MPG
1st Gear: 4.377
2nd Gear: 2.859
3rd Gear: 1.921
4th Gear: 1.368
5th Gear: 1.000
Reverse: 3.416
See all Specs
Hide Specs
The Worker Passenger Van Lineup
---
Special Offers
---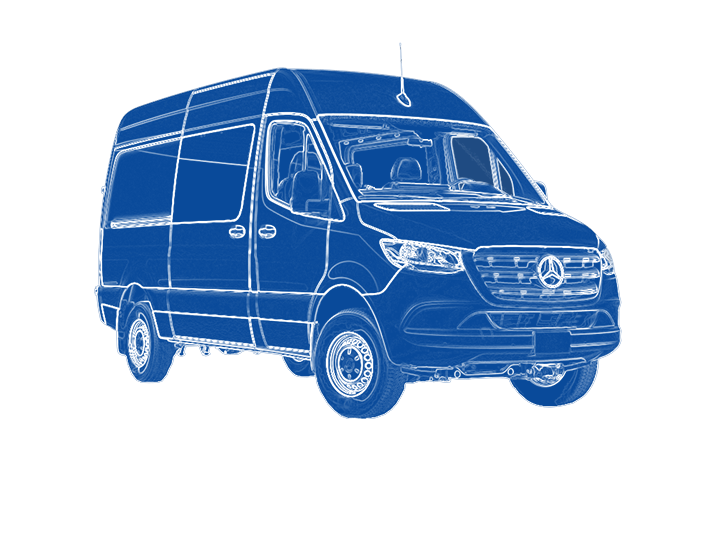 Find out how you can get tax savings on
your new or used business van all at once.
Don't wait, start saving right away.
Learn More

Value for the Long Haul
Great resale value, lower fuel costs, and fewer maintenance costs help Mercedes-Benz Vans deliver long-term savings.
See the Numbers
*Excludes all options, taxes, title, registration, transportation charge and dealer prep fee. Options shown. Not all options are available in the U.S. For a full offering and pricing information, visit your local Mercedes-Benz Vans dealership. Delayed availability.
2 No system, regardless of how advanced, can overcome the laws of physics or correct careless driving. Please always wear your seat belt. Performance is limited by available traction, which snow, ice, and other conditions can affect. Always drive carefully, consistent with conditions. Best performance in snow is obtained with winter tires.
3 Crosswind Assist can engage automatically when sensing dangerous wind gusts at highway speeds exceeding 50 mph. Performance is limited by wind severity and available traction, which snow, ice, and other conditions can affect. Always drive carefully, consistent with conditions.
5 Driver is responsible for monitoring fluid levels and tire pressure between service visits. See Maintenance Booklet for details.
10 Blind Spot Assist may not be sufficient to avoid all accidents involving vehicles in your blind spot and does not estimate the speed of approaching vehicles. It should not be used as a sole substitute for driver awareness and checking of surrounding traffic conditions. Not available on Cab Chassis/Cutaway.
20 Driving while drowsy or distracted is dangerous and must be avoided. ATTENTION ASSIST® may be insufficient to alert a fatigued or distracted driver and cannot be relied on to avoid an accident or serious injury.
22 There are numerous legal requirements concerning the towing of a trailer, eg. speed restrictions. Many states require a separate functional braking system for your trailer once a certain weight limit is exceeded. For reasons of safety, it is recommended that all trailers use a separate functional braking system. Make sure your vehicle/trailer combination complies with local laws. This not only means where you live, but also anywhere you are driving to. Information on this can be obtained from the police and local authorities.
Observe the following when towing a trailer:
Practice driving around bends, stopping and backing up at a place where there is no traffic.
23 Rearview camera does not audibly notify driver of nearby objects and is not a substitute for actively checking around the vehicle for any obstacles or people. Images displayed may be limited by camera field of view, weather, lighting conditions, and the presence of dirt, ice, or snow on the camera.
24 Please see your dealer. Compare the estimated mpg to the EPA estimated mpg rating of other vehicles. Please see www.fueleconomy.gov for details. You may get different mileage depending on how fast you drive, weather conditions, and trip length. Your actual combined mileage will probably be less than the combined estimate. Please be advised that 91 Octane premium gasoline was used for fuel economy testing and fuel economy certification.
58 Available only to qualified customers for the 2018 Metris Cargo Van through Mercedes-Benz Financial Services at participating dealers through September 30, 2019. Not everyone will qualify. This FMV lease is based on a $369 monthly payment, for 48 months, with 15k annual miles, a base MSRP of $29,950, plus a Destination and Delivery fee of $995, a residual value of $11,759 (38% of total MSRP), a $5,811 Capitalized Cost Reduction (which consists of MBUSA Lease Cash of $2,500, customer down payment of $1,764 and a suggested dealer contribution of $1,547). Dealer Contribution may vary and could affect your actual lease payment. First lease payment due in arrears. No acquisition or origination fee. No security deposit required. An FMV Lease is a Closed-end Lease. Customer will be responsible for excess damage, excess miles, return conditions, and any fees or taxes affiliated with the lease. Payment based on a customer credit score of "A" through Mercedes-Benz Financial Services USA LLC.
71 Complimentary VanCARE Lease-End Protection offer applicable to Commercial Vans – FMV Leases for Model Year 2018 and 2019 Metris Vans with 36 or 48 month lease term. Must meet Tier A or B credit approval as determined by MBFS. Complimentary VanCARE Lease-End Protection will waive specified charges incurred by lessee for failing to meet the surrender conditions of the vehicle leased, up to the maximum amount waived of $7,500. VanCARE Lease-End Protection does not cover any excess mileage charges, may not waive all charges incurred for failing to meet the Surrender Conditions, and may not waive the entire balance owed under the lease agreement. Certain exclusions apply. Please see dealer for more information.
161 As of production month 10/2018, MY19 Metris models produced have a GVWR of 3,000 kg (6,614 lbs.) while MY19 Metris models produced prior have a GVWR of 3,050 kg (6,724 lbs.). Changes in GVWR have resulted in payload, GAWR and GCWR differences.