Haul more possibilities with Mercedes‑Benz Fleet.
Step up to the fleet that offers your business premium value.
If the durability, efficiency and low costs of ownership of a single Mercedes-Benz van can help drive your business forward, imagine what you could do with a fleet of them. Talk with the Mercedes-Benz fleet team about your commercial vehicle criteria. We'll recommend a fleet with the ideal body style, interior configuration and load capacity to suit your requirements.
Which fleet is for you?
Whether you need a few vans to grow a smaller business or hundreds to move it up to a new level, Mercedes-Benz vans offer the quality, reliability and cost-effectiveness you can rely on. Our fleet team can help you build a plan to make it work for you -- from model selection to upfitting to financing to service.

Medium Commercial Fleets
for 25 to 249 vehicles
The Mercedes-Benz Vans Medium Commercial Fleet Program offers valuable program pricing and exclusive vehicle discounts and benefits for companies with growing fleets of less than 500 vehicles. Program eligibility is open to companies with 25 to 249 vehicles registered in their fleet, with proof of 25 valid and unexpired registrations, titles, or an insurance policy. To learn more or to apply, talk with your local authorized Mercedes-Benz commercial vehicle dealer.

Strategic Commercial Fleets
for 500+ vehicles
We understand every business is different, with its own unique requirements. For larger fleets, our Strategic Account Managers consult with you to gain a full understanding of your business needs so they can recommend the optimal fleet solutions for your company. Imbedded with our outstanding coast-to-coast dealer network, they have the resources to facilitate van purchases, financing, upfitting and specifications for aftersale products and services.

Body Building/Purchasing Upfitters
Whatever type of business you're in, Mercedes-Benz offers customized van solutions designed to support the way you use your vans. Our MasterUpfitters can offer quality upfitting solutions for any Mercedes-Benz Sprinter or Metris van.  Each has qualified to become a Mercedes-Benz MasterUpfitter because of their extensive experience in the industry and their track record in working with Mercedes-Benz upfit guidelines – guaranteeing high-quality upfits matching our OEM warranty.  
If you're expanding your fleet, you'll want a reliable and versatile upfitting partner, and a Mercedes-Benz MasterUpfitter is a choice you can make with confidence. You'll be supported by a dedicated team equipped with the latest technical information and the knowledge to maximize the capabilities of each vehicle for the way it will be used.
For details, to browse our MasterUpfitter partners or to review technical information on Mercedes-Benz Vans, visit upfitterportal.com.
Why Mercedes-Benz Fleet?
There's no topping Mercedes-Benz vans for quality and value. Ask our Fleet Team to show you the numbers on the impact they can have to your bottom line.
Warranty & Maintenance
Mercedes-Benz warranty and maintenance packages are designed to help you capture the full costs of maintaining your fleet -- without unexpected costs. Ask us about the advantages of these programs to your company's financial management.

Extended Limited Warranty Options
Enjoy peace of mind and protect your van with the valuable coverage of our Extended Limited Warranty (ELW):
No deductibles or cumbersome claims processing
No approvals required prior to repairs
Repairs by factory-trained technicians utilizing high-tech diagnostic equipment
Repairs completed with Genuine Mercedes-Benz parts
Learn More

Prepaid Maintenance
With Mercedes-Benz Prepaid Maintenance for Fleet, maintenance costs are built into the budget – so you have no surprises as the year goes by. By covering two, four, six, or eight of the services your van requires in advance, you can be confident that your business will run efficiently while you save time and money.
Learn More
Connectivity
With Connectivity, both fleet managers and drivers will experience increased efficiencies. Connectivity provides an array of features, ranging from vehicle monitoring to remote door locking and unlocking functionality, all in an effort to move your business forward faster.
Advanced solutions for connectivity and efficiency
Available with every new Sprinter, Mercedes me connect intelligently connects drivers and fleet managers to their vehicles while integrating efficiencies and productivity into your business.
Please review the Connectivity information for more details on the scope of services, terms and conditions, eligibility and restrictions.
Financing
As the in-house financial services provider for Mercedes-Benz USA, Mercedes-Benz Financial Services has the knowledge and experience to put together a financing package to make your fleet's numbers work for your company.

Mercedes-Benz Financial Services
Whether you're just getting started with your fleet as a small business, building out an established commercial fleet or something in between, Mercedes-Benz Financial Services can work with you to create a plan tailored to help make your aspirations become reality.

Fleet Portal
The new Fleet Portal will provide a benchmark system for fleet customers and internal users aiming to create customer satisfaction. Stay tuned for additional announcements about new features coming soon.
Fleet Portal
Fleet Special Offers
Check out our fleet specials for multiple model year Sprinter and Metris Vans.
See All Offers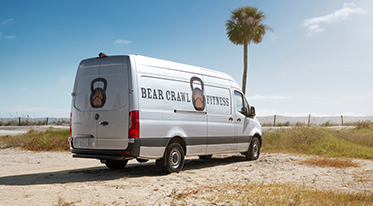 Get 7.64% Fleet Special APR for 24-60 months [2]
For a limited time, take advantage of 7.64% Fleet Special APR on all new 2022/2023 Mercedes-Benz Sprinter Vans. Offer valid through January 2, 2024.
Offer Details
Only valid on new 2022/2023 Mercedes-Benz Sprinter and Metris Vans. Qualified commercial customers only. 7.64% APR financing for 24-60 months. Available only at participating authorized Mercedes-Benz Vans dealers through Mercedes-Benz Financial Services (MBFS). Must take delivery of vehicle by January 2, 2024. Specific vehicles are subject to availability and may have to be ordered. Subject to credit approval by MBFS. Actual rates, terms, down payment, and program eligibility will be determined by MBFS Credit Team based upon creditworthiness of customer. Program rates or terms may be changed or the program may be terminated at any time at the sole discretion of MBFS. See your authorized Mercedes-Benz Vans dealer for complete details on this and other finance offers. Offer valid through January 2, 2024.